Upcoming Workshops & Classes
In every workshop, I promise you will learn lots of techniques to take home and implement in your own work (and we have a lot of fun too!)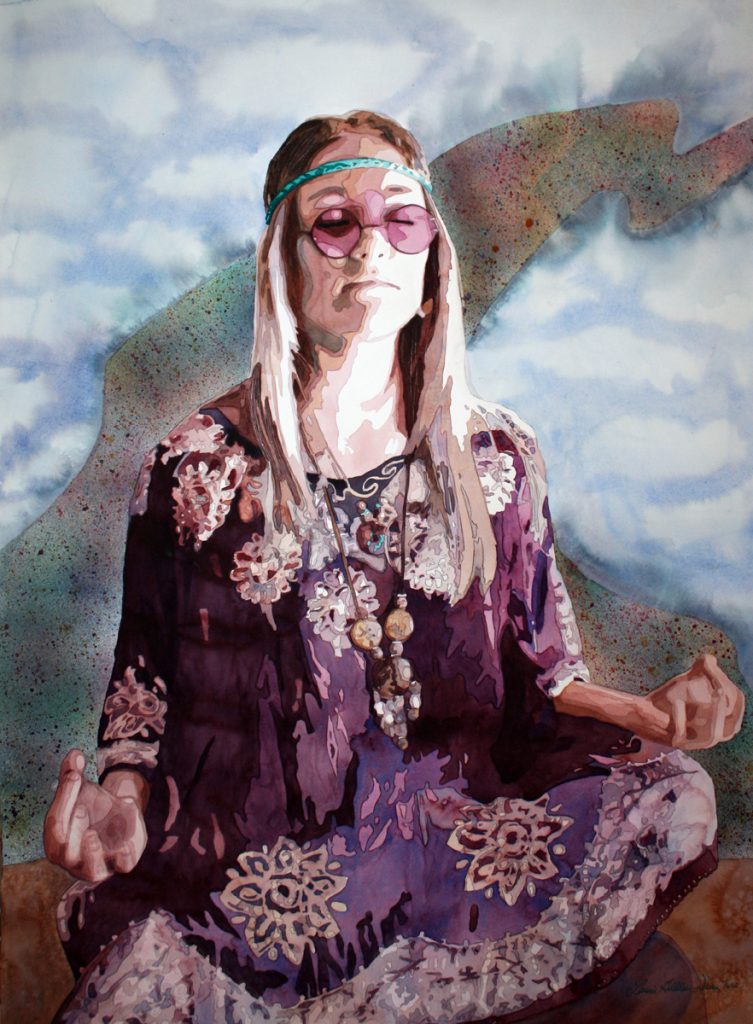 Transcendence, Transparent Watercolor, 39″x29″
Types of Workshops
LIMITED PALETTE PORTRAITS: I am currently offering a limited palette portrait workshop. No portrait drawing skill is required.I provide all sketches ready to transfer onto your watercolor paper. I welcome all levels of watercolorists. In this fun and informative workshop you will learn to expand your painting skills by limiting your palette. All skin colors and tones can be achieved with the same four colors. This method can be used for any subject, portraits, still life, landscapes and abstracts. Sign up with the contact person listed above today. I would love to meet you.
DYNAMIC POURING: My other workshop is for intermediate to advanced watercolorists. It also features the same limited palette, but we will also be incorporating acrylic paints with our watercolors in the same colors. We will be pouring and utilizing a variety of finishing techniques. You may use any subject for this workshop, figure, still life, floral, wildlife, etc. We will all be working on different subjects.
NIGHT CITYSCAPES THAT SPARKLE: My new workshop for the 2016/17 season is for intermediate to advanced watercolorists. It again features my limited palette in watercolor and/or acrylic. There will be masking and pouring techniques as well as texture tools, such as the toothbrush and mouth atomizer. You can paint night scenes in the city that sparkle and shine!
2016 (Past Workshops, please see Student Reviews to see how they went!)
Painting Reflective Surfaces in Cloudcroft, New Mexico ** NEW
August 1-5, 2016 Cloudcroft Art Workshop
Contact: Linda Shiplett – shiplett@pvtn.net
Limited Palette Portraits in Whitewater, WI
October 20-22, 2016 Whitewater Arts Alliance
Contact: Marilyn Fuerstenberg – mfirsty@gmail.com
Cityscapes that Sparkle
Central Ohio Watercolor Society
November 15-18
Contact: salford@insight.rr.com
2017
Dynamic Pouring Cityscape

Greenbrier Artists

April 5-7, 2017

Contact
:
bjbrenneman@gmail.com
Limited Palette Portraits

Society of Watercolor Artists
Fort Worth, Texas
April 17 – 20
Juror International Exhibition
Demo at Monthly meeting for SWA
http://www.swawatercolor.com/workshops
Cityscapes that Sparkle
Pennsylvania Watercolor Society **NEW
May 22-24, 2017

http://www.pawcs.com/html/workshop.html
Painting Glass in Watercolor
Dillman's Resort, Wisconsin
June 19-22, 2017
http://www.dillmans.com/dcaf/2017/laurie-goldstein-warren.html
Cityscapes that Sparkle and Glass Reflections

West Virginia Watercolor Society **NEW
July 13-16, 2017
Contact
:
jmreed16@yahoo.com
Cityscapes that Sparkle and Glass Reflections
Palette Club Art Center – Midland, TX
September 11-15, 2017
Contact:
somitafekete@gmail.com
2018
Dynamic Pouring
Morgantown Art Association
April 6-8, 2018
Contact:
bwitt26@comcast.net
Cityscapes that Sparkle
Texas Watercolor Society
Group Demo: April 16, 2018 Workshop: April 17-19, 2018
National Exhibition Juror
To be Posted:
www.texaswatercolorsociety.org
Limited Palette Portraits
Northeastern Wisconsin Watercolor Society
May 14, 2018 Public Demo May 15-17, 2018 Workshop email:
kelly.wolske@gmail.com
Limited Palette Portraits
Hudson River Valley Art Workshops
June 4-7, 2018
www.artworkshops.com
email:
info@artworkshops.com
Dynamic Pouring

Cloudcroft Art Workshops
July 16 – 20, 2018
http://cloudcroftart.com/
Dynamic Pouring
South Carolina Watermedia Society
September 18-20, 2018
Exhibition Juror
http://scwatermedia.com
Open Studio
Mid-Southern Watercolor Society
Little Rock, Arkansas
October 17, 2018 Public Demo
October 18-20, 2018
Contact
:
ptkalina@hotmail.com
2019
Cityscapes that Sparkle
Manatee Art Center, Bradenton, FL
March 1-3, 2019
Dynamic Pouring in Watercolor
Ingrid's Originals, Chicago, IL
April 30 – May 2, 2019
https://ingridsartoriginals.com/workshops
Illinois Watercolor Society
National Juror and Demo
May 4, 2019 Public Demo
www.illinoiswatercolorsociety.org/
Painting Metal and Rush in Watercoor

Dillman's Resort, Wisconsin
June 9 – 14, 2019
http://www.dillmans.com/dcaf/2017/laurie-goldstein-warren.html
3 Different Subjects in 3 days
Limited Palette Portraits, Painting Glass in Watercolor, Introduction to Abstracts
Lake Placid Arts Center
August 19, 20, 21, 2019
Contact: Tara@lakeplacidarts.org
Painting Metal and Rust in Watercolor

Palette Club Art Center – Midland, TX
September 9-13, 2019

Contact:
somitafekete@gmail.com
Dynamic Pouring
New Mexico Watercolor Society, Albuquerque, NM
September 30 – October 4, 2019
Jurying Exhibition, Public Demo and Workshop
https://www.nmwatercolorsociety.org/
Limited Palette Portrait
Moon Beam Art Studio
Stevensville, MI
October 21,22,23, 2019
Contact Dori Beth Josimovich 269-277-4566 (Leave Message)
or contact through Facebook Messenger @DoriBeth
2020
Dynamic Pouring
Whitewater Arts Alliance
June 19, 20, 21, 2020
Contact: www.whitewaterarts.org
262-472-0204
Shine, Rusty Texture and Reflections in Watercolor
Cloudcroft Art Workshops
July 20-24, 2020
Contact: caw@cloudcroftart.com
Painting Glass Still Life in Watercolor
Utah Watercolor Society
October 5-9, 2020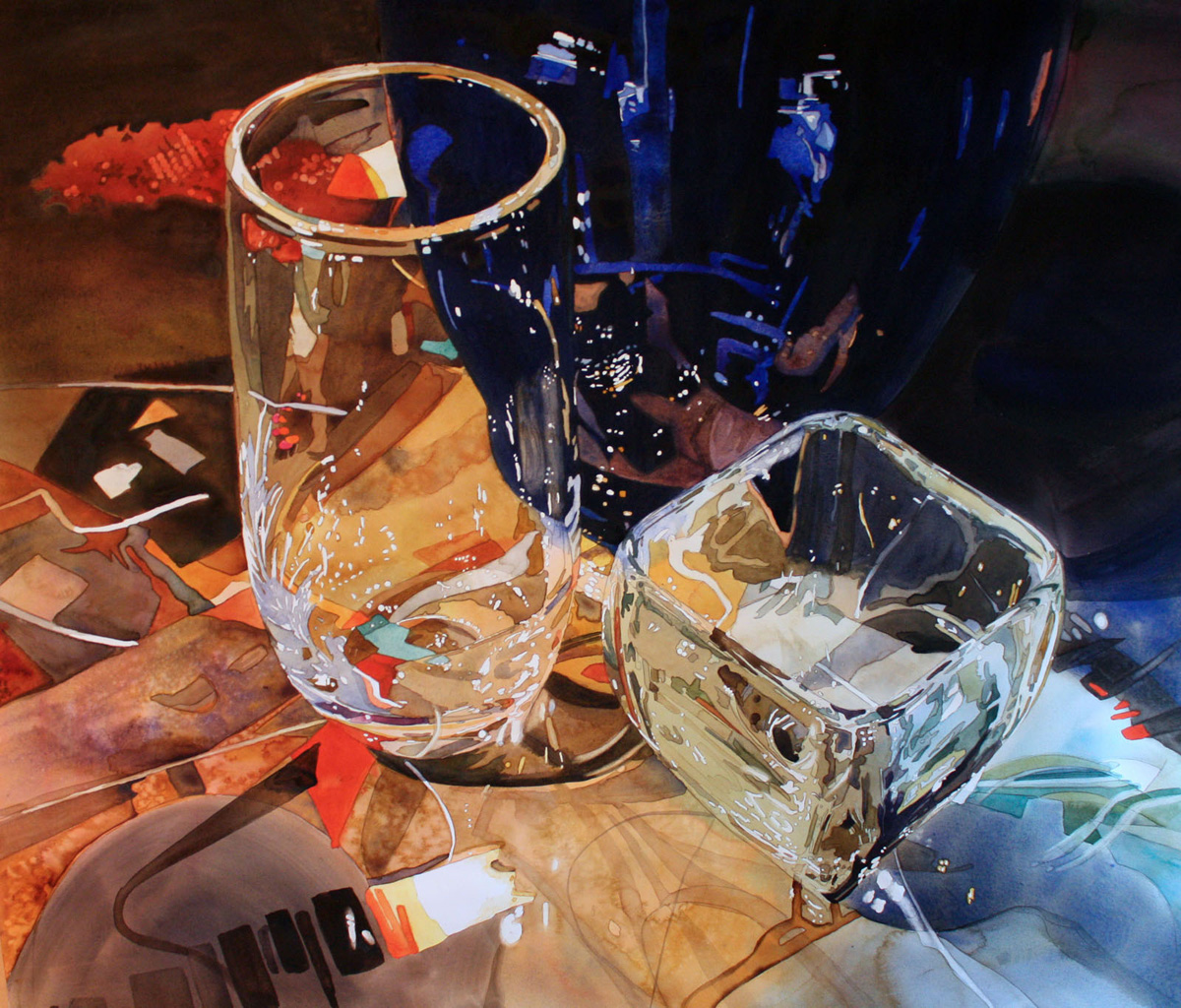 Glass on Glass on Abstract, Transparent Watercolor 25″x35″